All day 4 Island Tour and Separated Sea
All day Krabi four island Tour including Tub Island, Mor Island (the Separated Sea) / Chicken Island / Poda Island / Pranang Cave
| | | |
| --- | --- | --- |
| 08.00 to 08.30 |   | Pick up from your hotel. |
| 08.45 |   | Assemble at the pier. Speedboats depart at 09.00 |
| 09.30 |   | Arrive at your first stop, Thale Wake (The Separated Sea). Take a walk on the beautiful white sand ridge connecting Tub Island to Mor island. When the tide is low, the sand bar and limestone beach are exposed and create a spectacular bridge between the two islands. This is one of the highlights of the tour. Swim, take photos of the magnificent scenery and take in the sea's beauty. |
| 11.30 |   | Arrive at Chicken Island. Chicken Island, so named because of it's large chicken shaped rock formation is perfect for sightseeing, swimming or just relaxing on the beach by the turquoise sea. An island that consists of steep cliffs at one end and beautiful beaches along a peninsula at the other is an ideal location for swimming and snorkelling. Life jackets and snorkeling masks are provided to make your snorkelling safe and relaxing. Under the crystal clear waters of the Andaman sea, you will find a world teeming with brightly colored tropical fish and spectacular coral formations. For those who are not strong swimmers, keep to the shallows and please alert your guide so he can keep an eye on you. |
| 12.00 |   | Arrive at Poda Island, an island famous for it's beautiful smooth white sandy beaches. Have your lunch whilst taking in the idyllic surroundings of the Andaman Sea, (a picnic lunch is provided for Speedboat tours ). |
| 01.00 |   | After lunch, take time for a walk or just relax on Poda beach before moving on to our next location, Pranang Cave beach. Pranang Cave beach is set on a peninsula surrounded by ocean and spectacular towering limestone cliffs and is the home of the Holy Pranang Cave. The cave is a shrine located at the far end of Phra Nang Beach and is dedicated to the spirit of the drowned princess (Phra nang) who gave the beach her name. Relax, swim or just take a stroll down the beach and take in all its magnificent beauty. |
| 02.00 |   | Return to pier and transfer back to your hotel |
| 03.00 |   | Arrive at your hotel and spend the rest of the day at your leisure. |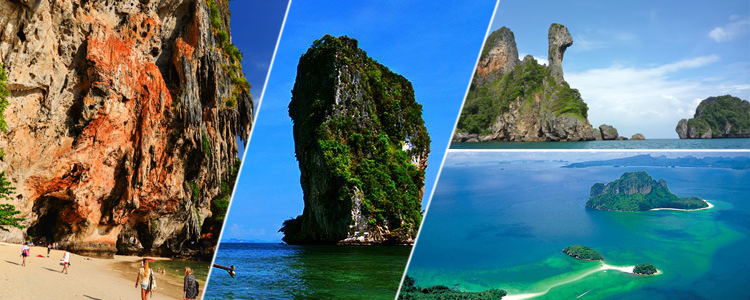 Pricing (Special Promotion)
Speedboat
Adults - 950 baht per person.
Children - 650 baht per child (between 3 and 11 years of age).

The program includes lunch as well as fruit and drinking water, a tour guide, snorkeling equipment and life jacket, insurance, roundtrip transfers from your hotel in either Ao Nang, Klong Muang beach or Krabi Town.
Program times and locations may be subject to change due to tidal and weather conditions.

Children and pregnant women:
We do not recommend children under the age of 2 or pregnant women travel by Speedboat at certain times of the year due to the possibility of rough seas and unpredictable weather.

What to bring:
Towel / camera / hat /sunscreen / sunglasses / Mosquito lotion / essential belongings.
Dress should be comfortable with appropriate beach footwear, shorts, bathing suit. Please leave all valuables back at your hotel.