Tour Package 3
Includes 2 nights accommodation (At one of our recommended Hotels), Krabi Sea Tour with swimming and snorkeling, food provided, roundtrip transfers, priced according to the hotel of your choice.
Click to view. Hotels – Accommodation
Overview
- Day1 Pick up from Krabi International Airport or Krabi Bus Terminal and transfer to your Hotel. Visitors who are doing this tour, need to arrive in Krabi early on Day 1 (well before 8.00am) in order to be ready to commence the 4 islands and Separated Sea tour by 8.30. At this point in time, you will be picked up from your hotel and taken to the pier to begin the tour. You will swim and snorkel amongst the beautiful coral reefs and travel on to Poda Island, Chicken Island, Tub Island Thale Wake (The Separated Sea) as well as Pranang Cave beach. You will be returned to your hotel by 2.30 p.m. Guests who arrive in Krabi late on Day 1 are transferred to their hotel and spend the rest of the day at their leisure. 
- Day2 A full day trip out to the Emerald Pool, the Hot Springs and Waterfall, plus visit and pay respects to the Buddha at the Tiger Cave Temple.
- Day3 Spend the morning at your leisure. Check out at 12.00. Pick up from your hotel and transfer to Krabi Airport or Krabi Bus terminal.
Itinerary
Day 1 : Welcome to Krabi province, "the gateway to the Andaman sea."
 
 
On your arrival in Krabi, you will be met by our friendly staff either at the airport or the Bus Terminal and transferred to your hotel. After checking in to your hotel, you will need to be ready to be picked up at 8.30 to commence the 4 Island and Separate Sea Tour.
Krabi 4 Island Tour and the Separated Sea (a rarely seen natural phenomenon)
 
08.00 to 08.30
 
Pick up from your hotel.
08.45
 
Assemble at the pier. Speedboats depart at 09.00.
09.30
 
Arrive at your first stop, Thale Wake (The Separated Sea). Take a walk on the beautiful white sand ridge connecting Tub Island to Mor island. When the tide is low, the sand bar and limestone beach are exposed and create a spectacular bridge between the two islands. This is one of the highlights of the tour. Swim, take photos of the magnificent scenery and take in the sea's beauty.
11.30
 
Arrive at Chicken Island. Chicken Island, so named because of it's large chicken shaped rock formation is perfect for sightseeing, swimming or just relaxing on the beach by the turquoise sea. An island that consists of steep cliffs at one end and beautiful beaches along a peninsula at the other is an ideal location for swimming and snorkeling. Life jackets and snorkeling masks are provided to make your snorkeling safe and relaxing. Under the crystal clear waters of the Andaman sea, you will find a world teeming with brightly colored tropical fish and spectacular coral formations. For those who are not strong swimmers, keep to the shallows and please alert your guide so he can keep an eye on you.
12.00
 
Arrive at Poda Island, an island famous for it's beautiful smooth white sandy beaches. Have your lunch whilst taking in the idyllic surroundings of the Andaman Sea, (a picnic lunch is provided for Speedboat tours).
01.00
 
After lunch, take time for a walk or just relax on Poda beach before moving on to our next location, Pranang Cave beach. Pranang Cave beach is set on a peninsula surrounded by ocean and spectacular towering limestone cliffs and is the home of the Holy Pranang Cave. The cave is a shrine located at the far end of Phra Nang Beach and is dedicated to the spirit of the drowned princess (Phra nang) who gave the beach her name. Relax, swim or just take a stroll down the beach and take in all its magnificent beauty.
02.00
 
Return to pier and transfer back to your hotel.
03.00
 
Arrive at your hotel and spend the rest of the day at your leisure.
Day2: The Emerald Pool, Hot Springs Waterfall and Tiger Cave Temple.
07.00
 
Have breakfast at your hotel (for hotels with breakfast included).
08.30 to 09.00
 
Pick up from your hotel.
09.20
 
Take a 1 hour and 20-minute drive from Ao Nang to the Hot Springs and Waterfalls of Klong Thom. These Hot Springs are a very popular destination for locals and tourists alike. Known as nature's own hot tub Jacuzzis, the water comes from thermal springs, originating deep underground. Located in the jungle, this site features naturally hollowed-out 'bathtubs' in the smooth stone, filled with fresh running spring water at a pleasant temperature of 35-42C. After a soak, take a refreshing dip in the cool river below.
11.00
 
Travel on to the Emerald Pool, a beautiful, large natural pool that is filled with pure spring water located amidst a tropical rain forest, considered to be one of the natural wonders of Krabi Province. The pool is reached via a network of trails through the Khao Nor Chu Chi forest where you'll pass by a series of waterfalls and streams, plus hundreds of species of tropical trees and plants. Relax and take a swim in the beautiful, refreshing natural spring water.
01.20
 
Have lunch.
02.00
 
Head back down the main road to the Tiger Cave Temple located about 3 kilometers from Krabi Town, a temple complex where monks live and worship within a maze of natural caves in an overgrown jungle valley. Inside the caves there are what appear to be tiger paw prints in the stone and the surrounding area is covered with large trees hundreds of years old. It is also a place of archaeological and historical interest with ancient stone tools and pottery remains having been found in excavations. You will also see families of monkeys roaming around the stairs and temple grounds.
03.50
 
Leave Tiger Cave Temple and head back to Ao Nang.
04.30
 
Arrive at your hotel.

Day 3: Checkout.
7.00 to 10.00
 
Have breakfast at your hotel (for hotels with breakfast included )
12.00
 
Check out and pick up from the hotel lobby at the appointed time. We make a short stop at the local souvenir shop before being transferring you on to the Airport or Bus station. We trust you will go back home with fond memories of your visit to Krabi and we hope you will come back again soon.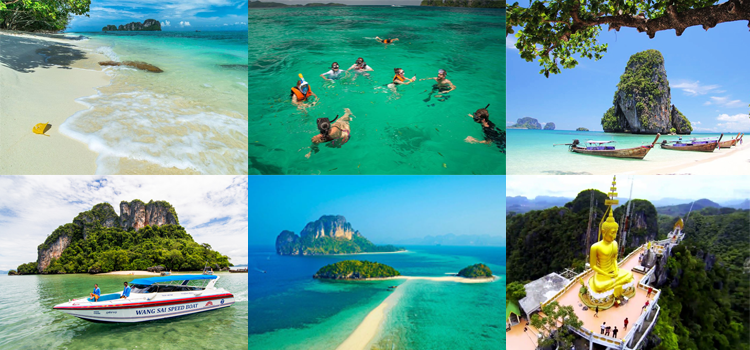 Time: The times listed in the program are approximate. The exact roundtrip transfer times are dependent on the distance your hotel is to the meeting point. We suggest you confirm pick up and transfer times with us upon your arrival, prior to the tour.
Children and pregnant women: We do not recommend children under the age of 2 or pregnant women travel by Speedboat at certain times of the year due to the possibility of rough seas and unpredictable weather.
Food and Menu: Food provided on our tour programs is either Thai or Seafood. If you require vegetarian or another specific type of food, please inform the tour operator when booking your trip. We also provide Halal food for our Muslim customers. 

Program includes:
Roundtrip transfers from the airport or the bus terminal to your hotel.
Four Island Tour and the Separated Sea by Speedboat with packed lunch.
Tours of Emerald Pool, Hot Springs, Waterfall, Tiger Cave Temple, lunch, park admission fees. Experienced Tour Guides.
2 nights accommodation (at the hotel of your choice).
an assortment of fruit and drinking water. 
Masks, life jackets and snorkeling gear.
Tour Insurance. 

What to bring:
beach footwear
hat/cap 
bathing suit 
Mosquito lotion
Sunscreen
sunglasses 
Camera

***Program times and locations may be subject to change due to tidal and weather conditions.